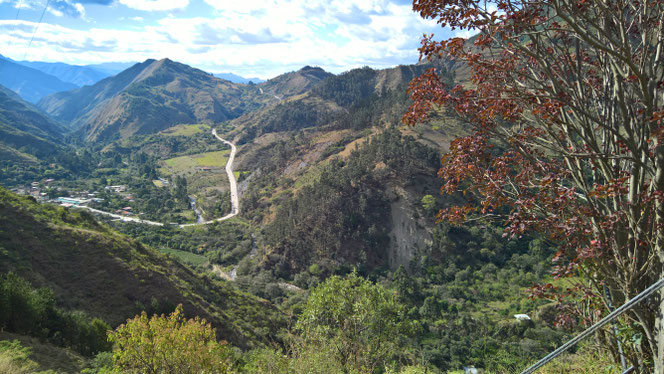 Ok, ok, Nikki. Yangana IS beautiful!
We were invited yesterday (Wednesday the 18th) to visit Nikki and Jean Francois and look at some properties and potential rental places. Knowing that next week our months rent at this place ends, they were helping us find something else.
Nikki also had a secret mission, which she did not keep secret: she wanted us to start loving Yangana as much as she did. The way to achieve this was going to be; look at lots of Yangana. So she had made a plan of were we should start and how to work up to the best parts of Yangana. She did a good job.
Over the last weeks we had looked at lots of land. Not in Yangana. The fact that Nikki and Jean Francois ended up there, did not mean this was going to be THE place for setting up a village. She tried to remain open to the other places, but nothing she (and we) saw, was what we were looking for.
We might not know what we are looking for exactly, but we DO know what we are NOT looking for: Dry land with no water source on the property, no (mature) fruit trees, over 50.000 dollars, less then 5 hectares, steep, with no flat area's, hot (like Malacatos), cold (like higher up the mountains), very remote or very central (like in town).  And all the properties we had seen had some of the above factors.


We started the tour walking near the river where they are living and made our way up a mountain, to get some overview over the land. I have a fear of hights and had to conquer some of it in this walk (pain-in-the-ass-thing is; it is not over when you conquer it). Crossing the river over Jean Francois' strong, but small (30 cm wide) bamboo bridge with no arm holds was a challenge for me. Everyone ran over and I went foot by foot, with the help of JF. The only thing that I could think -once I crossed- was; 'I have to go back too...'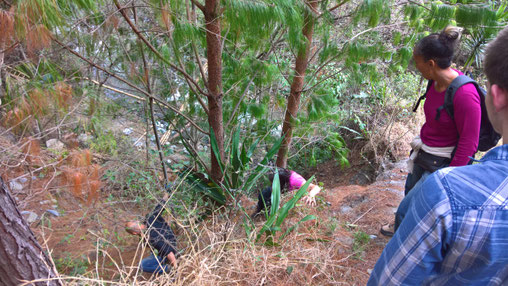 The hill came soon after the bridge and was a steep climb (and later on of course: a steep descent). My upper leg muscles started cramping with fear and effort. They are still painful today. 
But of course, I didn't die and didn't even break a leg.


We saw some beautiful opportunities:
- a small piece of land near the river, with mature fruittrees and a small cabana. This was far too small for a village, but there were other possibilities;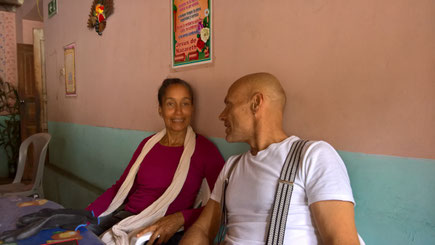 We could buy this land, rebuild the house, make it into an airbnb and rent it out with the four of us.
- a much bigger piece of land, not officially for sale, but extremely suitable for our plans of building a village.
- another small(er) piece of land, too expensive, but maybe we could rent the house?
After our -for me strenuous- walk, we walked into town to have a 2,50 dollar lunch and 30 ct icecream. And yes; the town had a good feel and the people were friendly.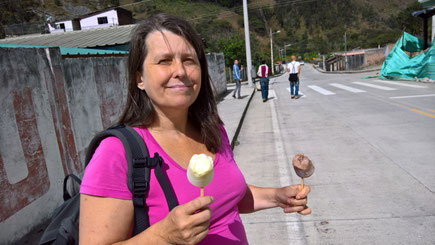 The icecream was homemade by the people from the local shop. A mixture of milk and fresh fruit or chocolate. 
The weather was great, I survived the walk, we saw beautiful nature and opportunities, had a yummy lunch, so the day could not be better!
But Nikki and JF were not done yet. After lunch they showed us another rental house and last, but not least, took us about 5-10 km's further on the highway (don't get any ideas with the word 'highway', it is mostly just a gravel road with some broken areas of tarseal) to Peru.
The landscape changed dramatically after 5 km's. It started looking like Austria. Green, rolling hills with pine trees and 'normal' European trees, lots of grasland with cows and even the temperature had dropped to a normal European temperature. While in the distance we could see the ridge of clouds -stopped by the Andes mountains- that belonged to the Amazone, the rainforest.
It was mindblowing.
Eric said jokingly; that is why the malaria mosquito isn't found in the (also tropical) region of Vilcabamba; it would have to cross this very cold area. And he might actually be right about that!
On the way back to Yangana, we spontaneously found the road to another rental house, on top of a hill. The road itself was another test of my fear with plunging dephts to the side...
The view on the picture below is taken from the top of that hill, looking down into the valley where we had previously been walking and climbing and looking at land and houses. The rental house up here didn't appeal to us, but the view did.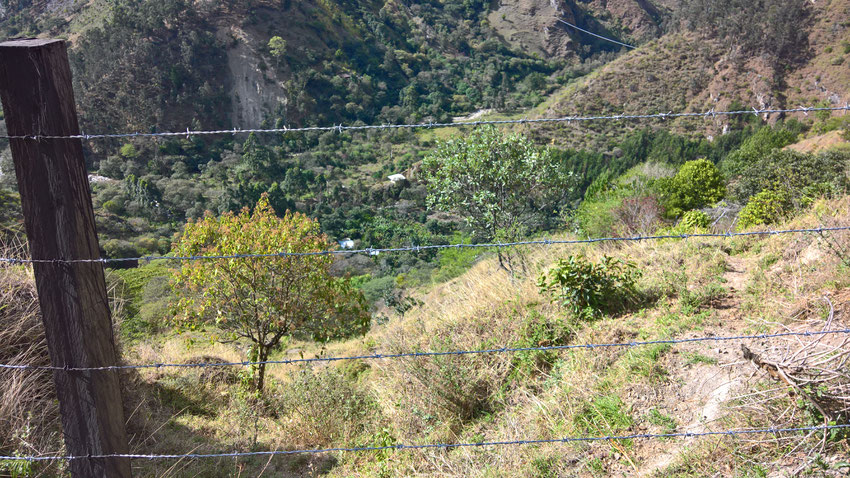 When you look in the deep, you see the green valley where our future village will be (nothing wrong with wishful thinking).