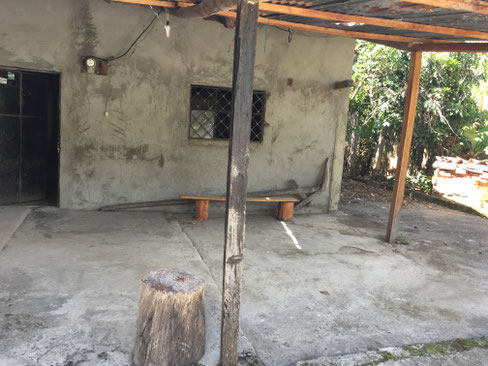 We found a longer term rental!!! Doesn't it look beautiful?
No, we haven't gone crazy (not unless we already were...). And yes, you see electricy wires hanging randomly, you are correct in seeing an unfinished and abandoned dwelling.
To explain why this looks so appealing is not easy, but here I go:
We haven't seen Ecuadorian houses yet, that would meet European standard. There are probably several reasons for this. The most important one I can think of is; temperature wise it isn't necessery that there is good pretection in the form of a house. As long as it has a roof, it is fine. And because it isn't necessery, not many people have dived into the art of building.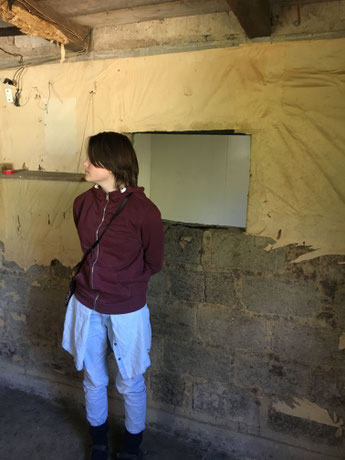 The house we are in now, looks good on the outside, but that is as far as it goes. Nothing is logical in this house. And lots of things aren't finished. It is made to 'look ok', but not to look too deeply at it.
Other houses we've seen haven't even bothered with the looks. They are usually incredibly dirty and totally unfinished. Most houses have cracks in the walls and the floors. Some don't have a roof; they have an open upper floor that is unused.
For these houses they will easily ask 250 to 800 dollars per month. When you realize that the average monthly wage is 400-500 dollar in Ecuador, it is clear that this is very high. 
This has to do with our gringo-ness. We look gringo and therefore we must be very rich. And our car doesn't make us look any less rich (we really have to get rid of the car at some point...). So any rental, however shack-like it may look, will cost top dollars for us. But only in the direct vicinity of Vilcabamba.
Since our future community village will be in Yangana and not in Vilcabamba, we started looking in Yangana. We can start to integrate in daily life there and also to be able to build a house without having to travel too far. Yangana is not seen as being in close proximity to Vilcabamba, eventhough it is only a 20-25 min drive.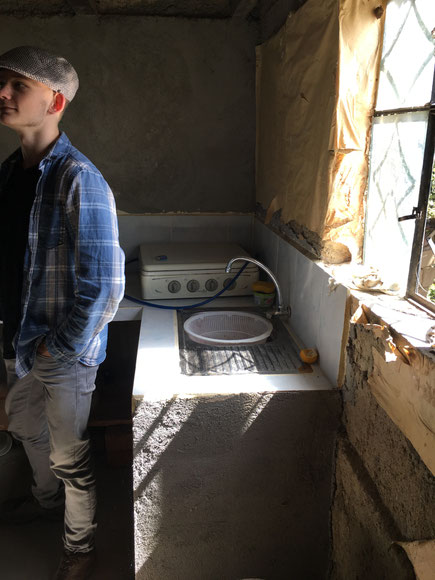 There are no pretenses in Yangana; there are no rental houses and nothing looks fancy.
However; there is a lot for sale. And when it is for sale and no one lives there, it is also for rent in an onofficial way. For the price of 150 dollars per month, or less.
We looked at several of these places and after having seen a lot of unfinished shacks (on tops of mountains or next to the highway), this one had a very good feel to it. We both had this 'feel' and for both of us it was still there the next day. And the next. Mar agreed when she saw it today and sat outside for a while. She felt her hart opening here.
We could also see the amount of work, which brings me to our second reason to love this house: 
When we want to start a village, build our own house, make wine, make cheese, have fun and be outside, we have a big gap to cross with where we are now.
We are currently living in a 'closed' house (it doesn't invite to go outside), we follow a homeschooling and physical movement schedule, the kids are on the computer big parts of the day, we are looking at land and houses by car.
There is hardly any connection to this 'future' with a village.
We feel more like we are 'waiting' for this future to come to us.
When we had the chance to rent a very nice, well built and large house in Vilca, we could foresee that we would be doing more of the inside living, having great wifi connection in that spot and being far away from Yangana.
That is when we realised we had to 'want' something different. So we did. We started wanting something which was unfurnished, so that we could begin to make our own furniture (and buy whatever we couldn't make). We started wanting something more 'open' and in nature and live more 'outside'. 
So in a way: When this house and land showed up it was an answer to our wish.  
The third reason to like this house has to do with the 'extra's': The water comes from a very clean source in the mountains. The land around the house has avocado trees, mango trees, orange, sweet lemon, manderins, yuca, coffee, sugar cane, etc, etc (there is much more). We are allowed to eat the fruit.
The front porch is huge and will give us some moving space in the rainy season (december/januari).
It is very quiet there, very private, away from the highway, but accessible by car (although through a very worn and small road).
There is a chicken pen, all built and ready and the owner is going to give us some chickens.
Things like that...
Jean Francois and Nikki instantly offered their help (hope they won't be regretting it) to plaster the walls and make it more liveable. 
The owner has arranged for someone to fix the roof, so that we can get through the rainy season with dry feet.
Tomorrow we are going to buy plaster (we thought about a mix of clay, sand and water to plaster the walls with, but there is no clay on the land) , pick up the kids to help us and start working.
We will probably go to the Sunday market in Loja to buy inexpensive goods for the house, like flax mats to cover the floor, blankets to serve as doors, cutlery and dishes, etc.
Another promising development is the fact that Nikki and JF have started to become friends with people that now appear to be the owners of the land that I dubbed 'Our Village' in the last blog.
And these people are open to our ideas...
Daisha, the psychic, said the village would function in the way I foresaw in the vision in 2024. That means that, although things seem to go with the speed of light sometimes, they will still take their time.
She also said our project would begin after the first half of 2018. And that could very well be a true prediction, the way I see it now.
Slowly we move with the speed of light.